DJ Procurator
Hey there, dudes! Welcome to my personal page, hosted by my lovely virtual persona, Procurator of The Glitch Society! If you're here, you probably already know who I am, but I guess the page would be a waste of space if I didn't re-iterate…
The Talent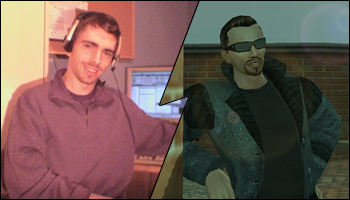 Eh? Well, I guess that's open to speculation. Anyway, I'm DJ Procurator (pronounced prock-your-ate-or, but take your pick from Proc, Pro, Pee or Peewee), and I'm a regular DJ for Split Infinity Radio. I 'get loud, get mental' for your listening pleasure generally twice a week around 6pm–9pm or 9pm–12am GMT, except when I'm at university and unable to broadcast from behind their hideous firewall.
I'm based on the Syntax server of The Matrix Online, so whenever I host a party or other gathering in-game it's on that server. Everyone's welcome, mind!
If you really want to learn more about the real me, you'd do well to check out The Big C Domain, my personal site. Be warned, though, that it's not exactly up-to-date.
The Line-up
Most DJs have a style, and mine is eighties music. I play whatever classic tunes and songs I have to hand from the best era music history has ever experienced, interspersed with a few noteworthy contributions from modern artists, trance, top remixes of top games and humourous songs just for kicks.
Don't like what I'm playing? Send in a request! Split Infinity has a number of different ways of sending in your song requests in to me, so if I have it (and it's not outrageously horrid) I'll play it. If you've got an event or something else relevant to promote, let me know and I'll make sure people hear about it.
At some point in the future, it's supposed that I will be one of the newscasters for the station, doling out the Matrix and gaming news for the masses.
The Show – Procurator Speaks
Starting around the 20th of March, I'll be back on the air waves and hosting a brand new show. I've tentatively entitled it 'Procurator Speaks'. I'm still working on the details, and anything I have finalised is very hush-hush.
However, I will warn you that the show will be almost entirely 'in character', meaning I'll be acting the part of Captain Procurator from The Matrix Online. I promise you it'll be a show worth catching every week!
Resources
Below are a few files you can download. They're things I use to make my programme what it is, and as I realise not everyone has MP3pro working (a protocol that lets you hear Split Infinity's 64kbps stream as clearly as if it were 128kbps) I'm providing these files so you can hear them they way they were meant to be heard: with you crouched on the floor, covering your ears and screaming in agony.
Jingles
How can you have a radio programme without its own jingles? Okay, so I haven't yet made any jingles to be played during the show, but here are the things I use to start and end my show in style!
Background tune is a snippet of Danny Elfman's theme for Beetlejuice, while the 'rated R for retarded' is from GTA: Vice City and the laughter is from both Red Faction and Grim Fandango.
The tune where I usually try to come up with a poor closing gag. It's from my favourite game of all time, Flashback.
Background Tunes
If I have something important to say (including at the start and end of my show), I play one of my background tunes rather than a song from my playlist. I made these myself by chopping up a few songs for their best bits and bunging them together into a flawlessly looping track. I'm only including short samples of them for download, so I can't get my arse whupped by the powers that be…
By Aphex Twin. My personal favourite, I invariably play this at the start of my show.
Actually, this isn't so much a background track, as a foreground looping track. Needless to say, it's the Benny Hill theme tune, which I play during Catch Benny chases around the Mega City.
By Coldplay. I don't generally go for stuff by the likes of Coldplay, but the tune behind this song is simply awesome.
By the Stone Roses. Another brilliant tune that reminds me of the end of Lock Stock and Two Smoking Barrels every time I hear it.
By Rareware. It's the tune played in Conker's Bad Fur Day when Conker meets the morally dubious and literally two-faced Cog.